Southern AB Cross Country Fun Run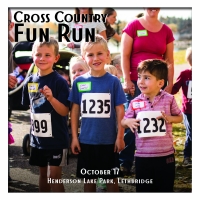 Who: calling all homeschooling families in southern Alberta, all ages!
What: Athletes in Action's GET ACTIVE for Homeschoolers cross country fun run
When: October 18. Must register online. Registration at 2pm to pick up bibs. Races start at 2:30 pm.
Cost: Free before October 15th! $5 cash/person for anything after. Cash to be paid day of at registration in order to be eligible to race.
Where: Henderson Lake park, Lethbridge, AB. Registration and races begin and finish at the Kiwanis shelter. 1103 31a St S, Lethbridge, AB T1K 2Z9
Pick your race length from 1-3kms. Parents with strollers allowed, young children, teenagers, moms and dads and even grandparents are all welcome to run!
Dress for the weather!
Click Register for one racer in the home, or choose Register (Group) for multiple racers in the home.