Mastering the Essay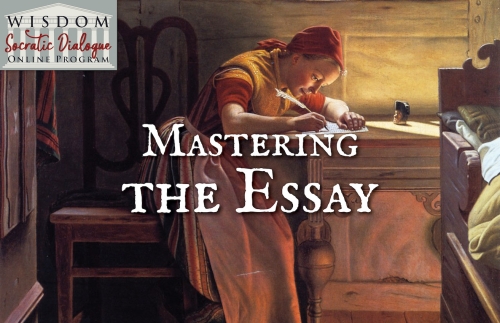 14 yrs and up , $300.00, 14 week course – Prerequisite: Intro to High School Writing (If an interested student can demonstrate sufficient writing ability at a high school level, they can contact Nicole Noster, This email address is being protected from spambots. You need JavaScript enabled to view it., for a possible exemption from the prerequisite.
Sharpen the sword of your thought and make it clear, strategic, and effective! Writing an essay is so much more than cover pages and footnotes – it's the process of bringing truth to life in ink on the page! This simple, hands-on course demystifies the essay-writing process, walking students through the mechanics of writing argumentative, research, personal, and literary essays in a practical way. Students complete a writing assignment every week and study stellar examples of great writing to inspire their own work. They meet in class with other students to discuss the writing process, and receive a short private tutorial time weekly with the tutor.
Tuesdays, 1 - 2:30 PM - FULL
Mastering the Essay Rachel Shunk
This course includes private tutorial time.
Since this course is full, please feel free to register for the waiting list. If there are sufficient students on the waiting list, a new section may be created for the Fall term.
Event Properties
| | |
| --- | --- |
| Event Date | Tuesday, 03 Sep, 2019 |
| Registration Start Date | Thursday, 18 Apr, 2019 |
| Spots available | 0 |
| Cut off date | Tuesday, 13 Aug, 2019 |
| Price | $300.00 |