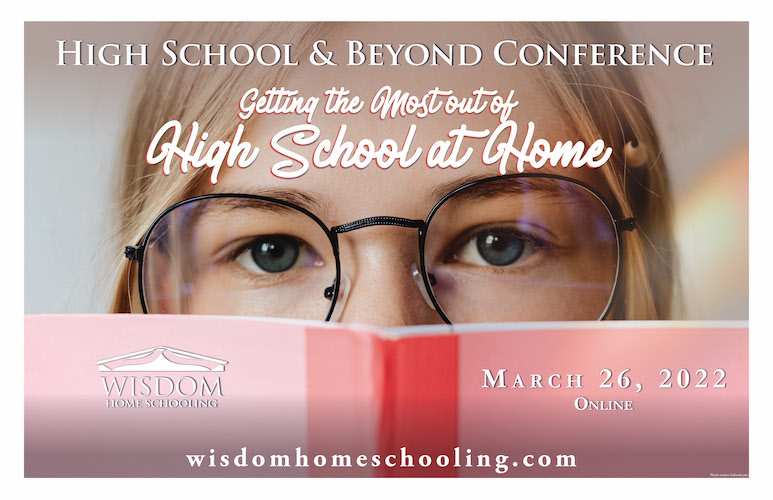 WISDOM High School & Beyond Conference
Getting the Most out of High School at Home
March 26, 2022
10 am
ONLINE via Zoom
Join our online High School Conference with speakers who will help you get the most out of high school at home, preparing you for future success.
This conference seeks to inspire youth to engage in their own education, as well as to inform and encourage parents. Parents and their students aged 12+ are invited to attend.
The day will feature engaging speakers on a variety of topics, from learning about how to maximize the home schooling years to figuring out what to be when you grow up, and learning about employability skills. We will outline the various methods for completing high school at home, walking families through the information in our high school information book.
Cost:
$40 per family for WISDOM families.
($85/family for non-WISDOM families.)
Included with your registration, selected recordings will be available for viewing for a period of time after the conference.
SCHEDULE (subject to change):
10:00am – Welcome and "Time for a real education" – Kenneth Noster
10:30am – "What do I want to be when I grow up?" – Therese McDonald
11:00am – "Creating good study habits" – John Hoekstra and Michelle McLay
11:30am – "Basic employability skills to be mastered before graduating" – Paul van den Bosch
12:00pm – Lunch break
12:45pm – "Alberta Education course marks and credits" – Desmond Kilgannon and TobyLauren Burgess
1:30pm – "Entrepreneurship" – Charlotte Wasylik
2:00pm – "Grad Panel" Nurse, Professor, Entrepreneur and Tradesman
2:45pm – "Getting the most out of high school at home" – Kenneth Noster