To order print copies mailed to you free, please email or call the office at 780-741-2113.
New! Faith, Family & Home Schooling - Volume 1
A collection of articles to encourage families of faith to include faith activities in their homeschool day (and week) and to encourage faith to grow in our hearts.
FOR FATHERS - Volume 1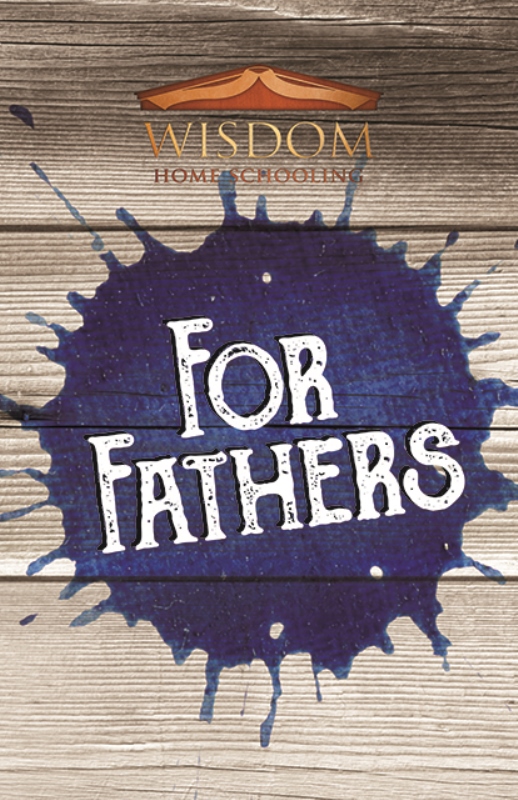 The success of a home school depends greatly on a unified approach by both parents. When a father is supportive of, present to and engaged in home education, children show a marked improvement in motivation and achievement.
FOR FATHERS - Volume 2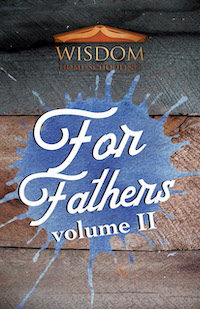 This booklet is full of encouragement and tips for the Home School Dad. Most articles are written by home school dads FOR home school dads! Why not order one for yourself or to share?
NEW! Fun Home School Activities with WISDOM – Volume 1
A collection of fun activities through the year for WISDOM families with children of a variety of ages. Activities include recycling, Lego, connection, space, summer (and Canada Day), winter and ice, nature, speech therapy ideas, art extras and more.
GAMES THAT BUILD THE BRAIN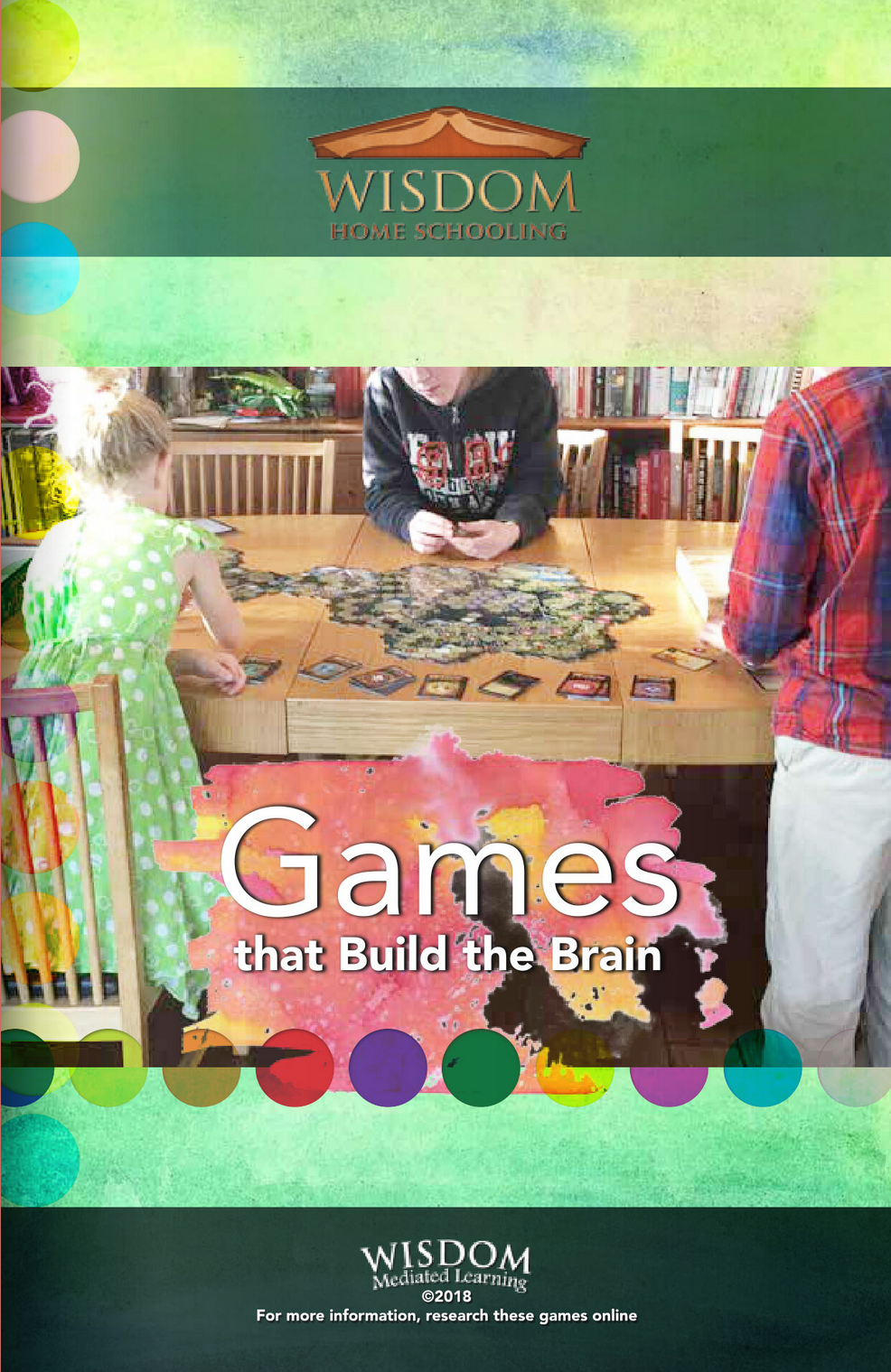 Studies show that board games are also very educational and healthy for our brains! Increases in memory and math skills, as well as preventing or slowing down cognitive aging, are becoming obvious benefits to playing board games. In addition, some games are designed specifically for educational purposes.
HIGH SCHOOL - Volume 1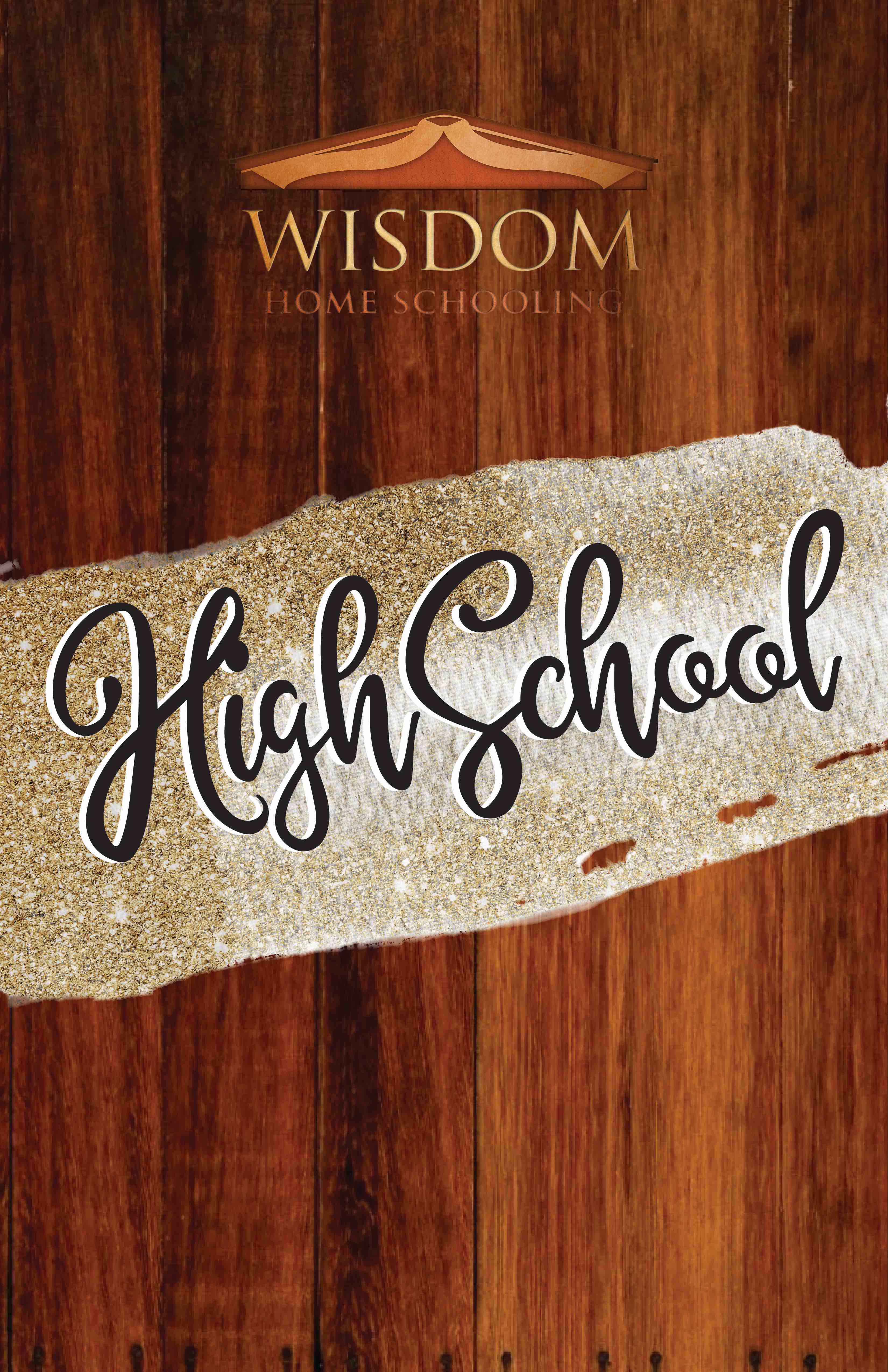 Home schooling our child through high school is often challenging, and most parents feel at least some insecurity about achieving their goals. WISDOM's mission is to help you hold on to your vision, and to home school all the way through high school. These inspiring and encouraging articles were previously published in The WISDOM Family Magazine and have resonated with parents so much that we offer them again in this compilation.
If you have questions about home schooling through high school, including what methods and options are available to you, please don't hesitate to let us know. We are here to help.
HIGH SCHOOL - Volume 2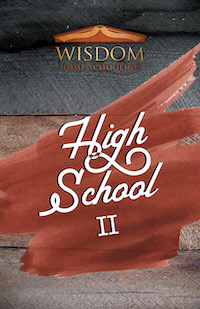 Home schooling through High School can be tough, but it is totally doable and totally worth it! This booklet has a second batch of encouraging articles and inspiration for home school parents.
HOME SCHOOL ENCOURAGEMENT - Volume 1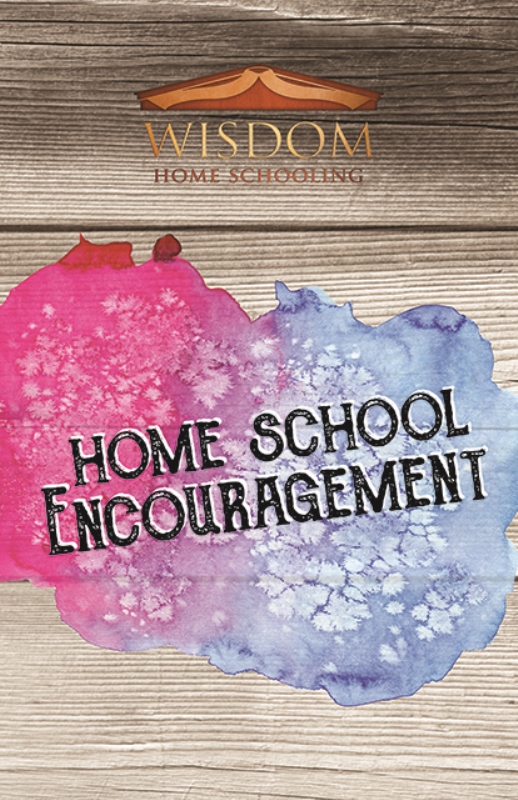 There will be times when you wonder if you can keep on home schooling your children. Home schooling our children can be draining, messy and overwhelming, but it is also a commitment, a delight and worth all the time and energy it takes. Read this booklet once, twice or whenever you need to, and have a spare copy to give to a home schooling friend when needed.
HOME SCHOOL ENCOURAGEMENT - Volume 2
As if Home School Encouragement Volume 1 wasn't encouraging enough, we have now added Home School Encouragement Volume 2. There are days when home school parents can feel discouraged and drained. This booklet is full of encouraging articles to raise your spirits and help you to stay the course. (Have one handy to share with a friend!)
HOME SCHOOLING LITTLE ONES - KINDERGARTEN AND GRADE 1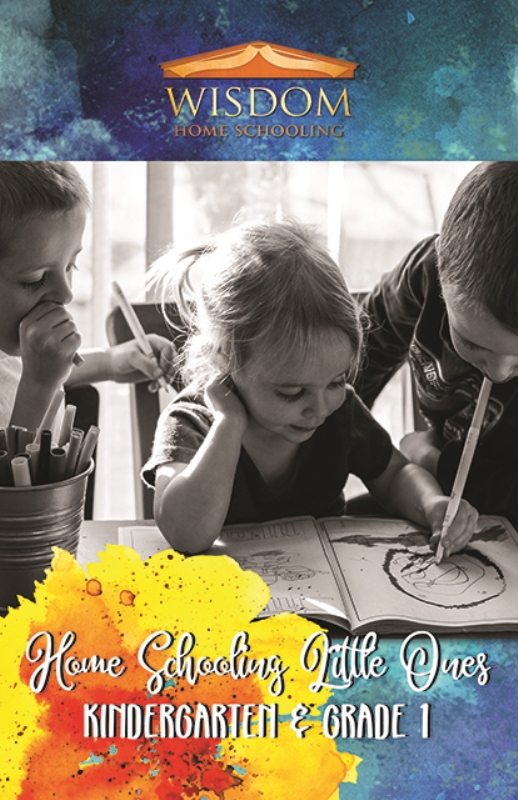 In Alberta, Home Education is officially recognized by Alberta Education when the student is 6 by December 31 of the school year. It is mandatory to enroll your child in a school or home education program if they are 6 as of September 1st. However, if you are reading this, you just might be wanting to get going on home schooling now. And that is a wonderful thing!
Home education is a natural extension of the parenting you are already doing with your young children. Organized play, reading with your child, counting, and identifying objects, arts and crafts - and other things that engage them and cause them to think - all of these are an important part of their early childhood development.
There is no government-recognized home school program for pre-school and kindergarten in Alberta, but don't let that stop you. You can be as organized or as spontaneous as suits your home and your child's unique needs but let the ideas on the pages ahead inspire you.
MARRIAGE & HOME SCHOOLING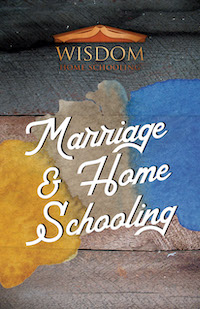 Along with home schooling and loving our children, staying happily married is one of the best things for parents to do. This booklet focuses on encouragement and tips for the married couples among us.
MEDIATED LEARNING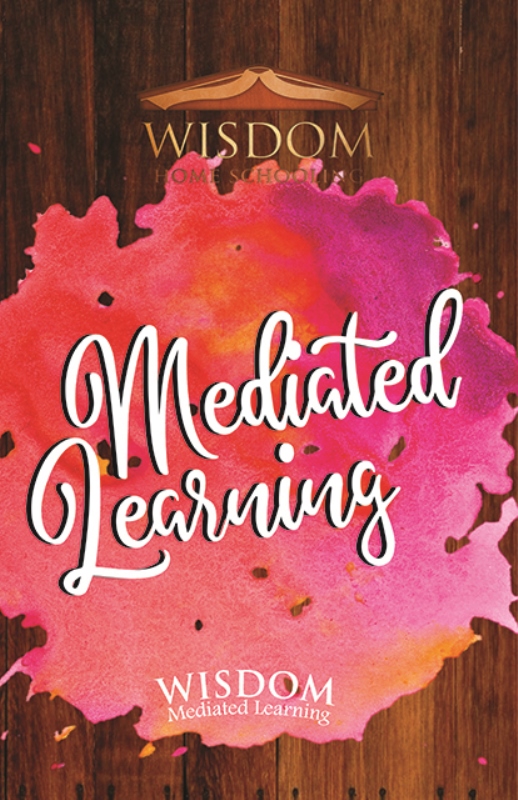 WISDOM Home Schooling offers parents an effective method of interaction that can help all learners, regardless of learning or behaviour difficulties, age, or background. The parent is the best person to help a child make progress in their learning. The mediational method develops optimism in the child, opens a greater desire to learn, and stimulates enthusiasm to work to a place of success. Find out more here.
NATURE STUDIES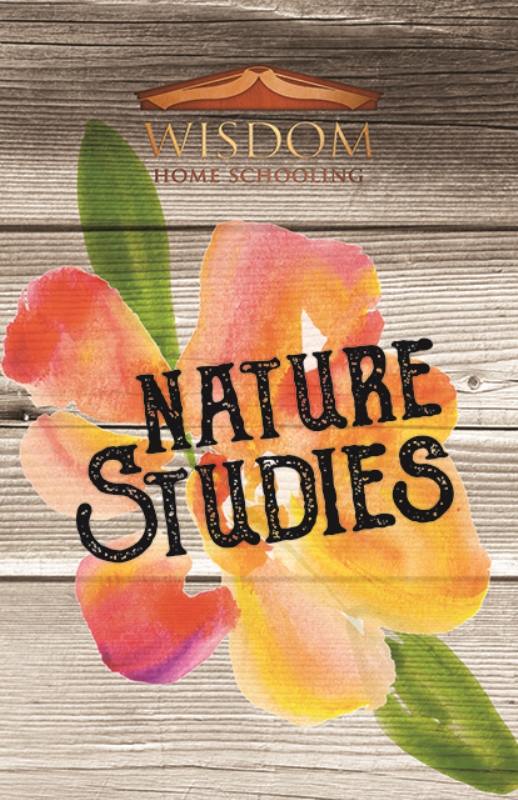 Enjoy nature with your children. All these articles were written by home school parents or graduates and encourage us to enjoy the outdoors often. One of the best parts about homeschooling is encouraging our children to move!
NOTES TO MYSELF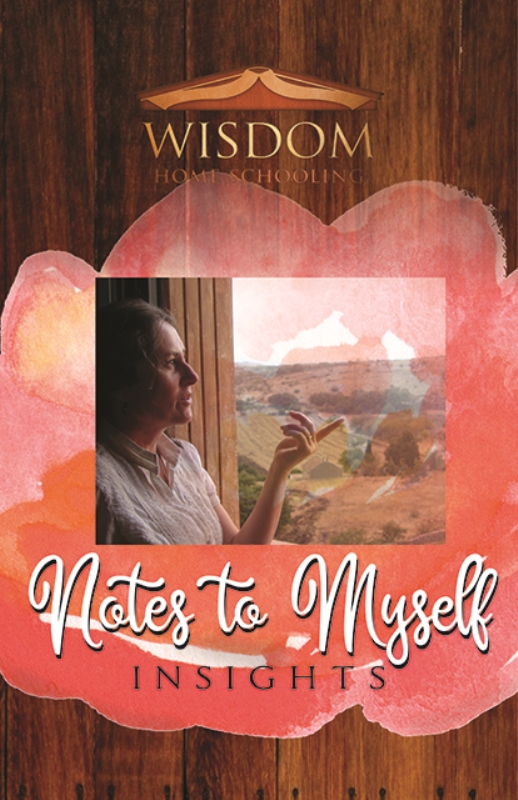 Marlane Noster is WISDOM's co-founder and Events Director. She and Ken began homeschooling in the late '80's and continued to then home educate all 6 of their children through high school. Marlane writes for the WISDOM Family Magazine under her column, "Notes to Myself", allowing you into the inner dialogue of a hard-working home schooling mother. We've chosen some of her best-loved articles for this booklet.
ON BUILDING NOAH'S ARK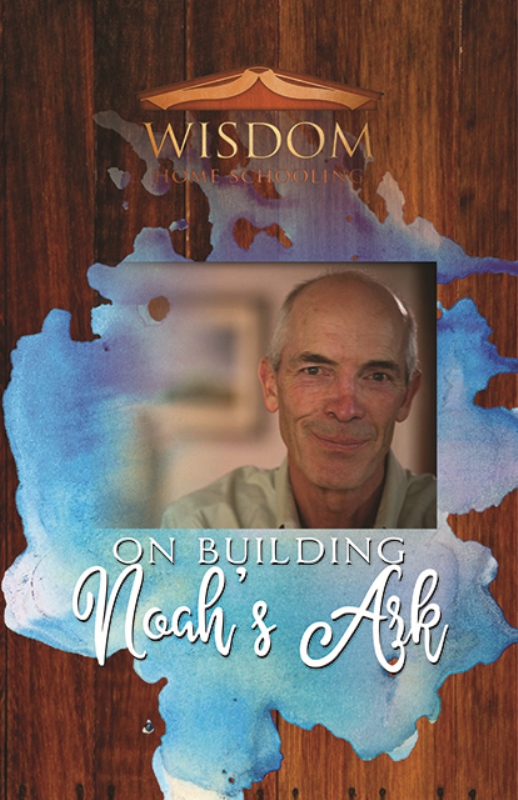 Noah had never built an ark before. Much like Noah, we step forward in this parenting and home schooling journey, working with our whole focus and having faith that all with come to fruition in due time.
Ken Noster, founder and Principal of WISDOM, is a passionate supporter of home education and of parenting our children wisely. He and his wife Marlane home educated their 6 children through high school and now reap the rewards of many great conversations as they reverberate through to the next generation. They continue to assist, educate, and advocate for home schoolers in Alberta and beyond, with a mission to build culture through the support of home educating families everywhere. Ken writes for the bi-monthly WISDOM Family Magazine under his column On Building Noah's Ark. We chose some of our favourite articles for this booklet.
PARENT READING LIST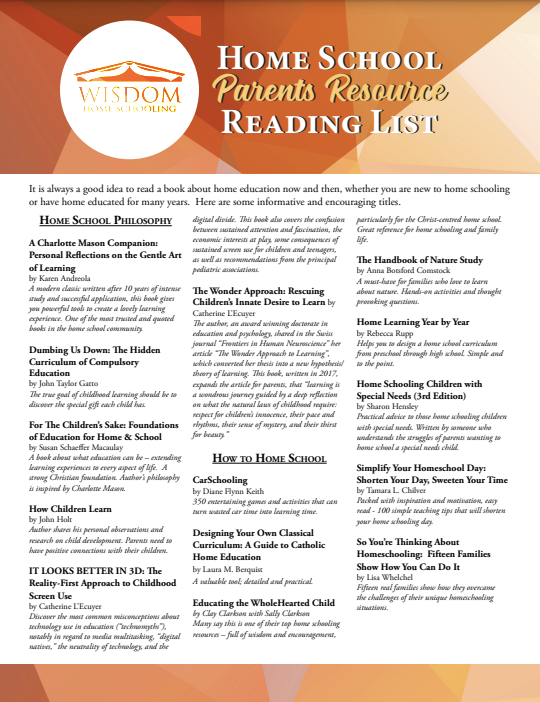 We also have a great parent reading list, where you will find some excellent resources about education and specifically home schooling.
PLANNING AND PERSEVERANCE (FOR THE HOME SCHOOL PARENT)
The key to effective home education depends a lot on planning. This resource is full of tips to help you plan well for all stages of teaching your children.
RECORD KEEPING FOR THE HOME SCHOOL PARENT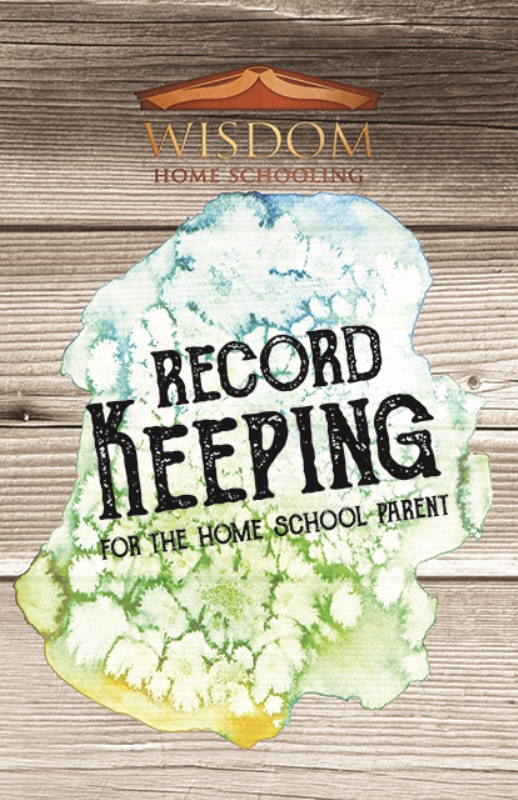 Staying organized is often one of the biggest challenges in a busy, homeschooling home, and it's even more important than we sometimes realize. This booklet gives you practical tips for effective record keeping, written by home schooling parents who have faced these challenges.
SCIENCE & TECHNOLOGY - VOLUME 1 AND VOLUME 2
Georg & Gayle Beinert have been on WISDOM's Parent Advisory Council for many years, serving with enthusiasm and love. Their passion for home schooling is enhanced by their passion for science and technology, and they were instrumental in bringing Science and Technology events to WISDOM families around Alberta. Georg's articles make up Volume 1 and 2 of the Science & Technology booklets.
SPECIAL NEEDS – Volume 1 and 2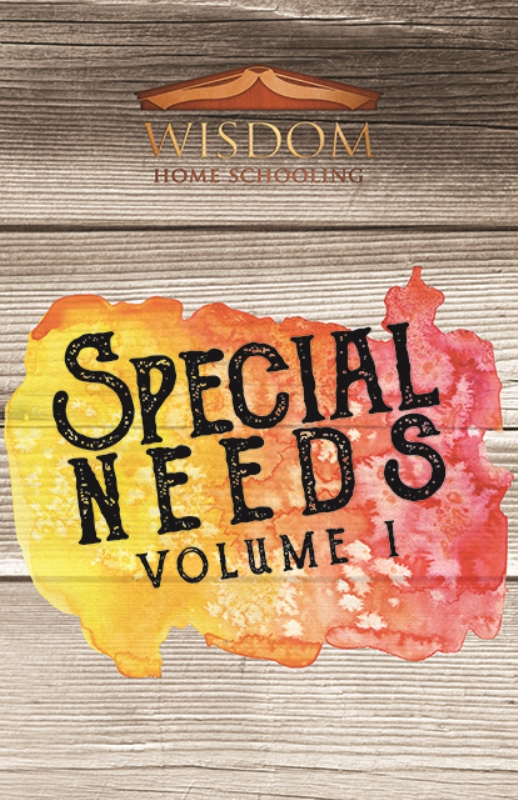 These booklets have an assortment of articles by a variety of authors with many ideas, tips, and encouragement on home schooling your special needs child.
SPELLBOUND
This booklet shares information and the facts about the impact of screentime on the brain. It is an important read for all parents. It also includes WISDOM's recommendations regarding Screentime for Children.
STUDENT READING LIST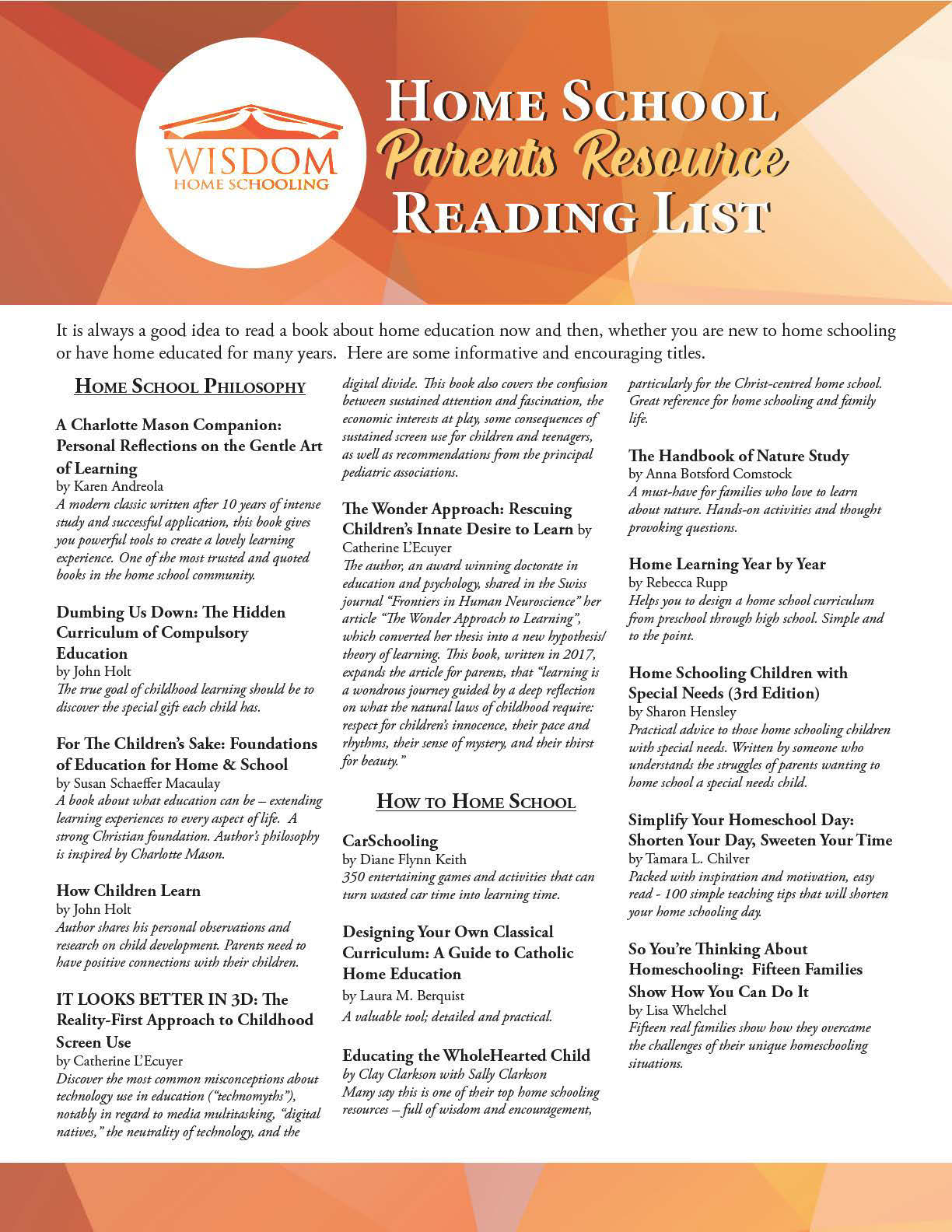 This booklet is a hidden gem of great worth among the WISDOM booklets. It has poetry, book suggestions, and MUCH MORE for younger ages, intermediate ages, and upper ages of children. It is a wonderful resource to have on hand and to leaf through each year while planning read alouds or assigned reading for older children.
This is a comprehensive student reading list recommended for grades 4-12. This is only a guideline, as you may find that your grade 2 student, for example, enjoys some of the same books as an average grade 4 student. These books are excellent for reading individually or together as a family.
Please note that this list of books for students was compiled on the recommendation of home schoolers, and that we at WISDOM have not personally read them all. While we believe them to be consistent with a good ethical worldview, if you do find anything in this list to be objectionable, please let us know at your earliest convenience.
TEACHING THE STRUGGLING READER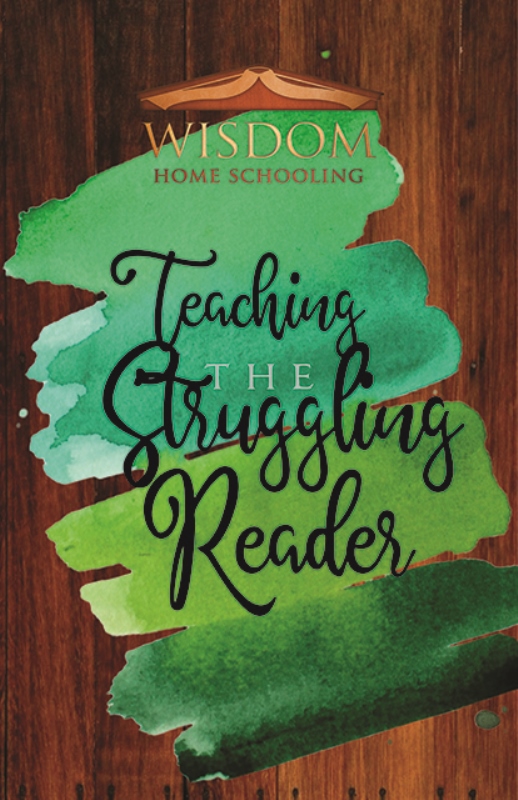 Find tips and encouragement for working with children who are struggling to read.
There is even more support for teaching reading through WISDOM's "Reading & Math" Mediated Learning Workshop.
YOUR HOME SCHOOL VISION
What is your vision? What is your Why? What is the essence of your home school? This is a great foundation booklet with articles on why and how to home school - that all depends on your vision for home schooling your children.
---
To order print copies mailed to you free, please email or call the office at 780-741-2113.