Workshops are events that are offered in the course of a half or full day, or an evening. They may be for the whole family, or they may be for specific ages, or just for parents.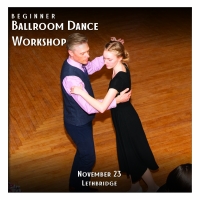 Are you feeling the need to get up and move? Our ballroom dance workshops are a great place to have fun while learning the basics of ballroom dancing. You will not only learn the waltz, rumba, fox trot and jive - but instructors Mike and Michele Barter will also teach ballroom etiquette. These workshops have trained several generations of homeschoolers in the art of ballroom dance.
Students benefit from the training in social graces as well as the opportunity to spend time with other home schoolers. The day consists of instruction and practise, followed by a potluck supper. After supper, you will have time to change into your evening attire for the ball beginning at 7:30pm.
Bring your own lunch and a main dish as well as a potluck dish & dessert to share for the potluck supper. Ball begins at 7:30pm
For the evening ball, modest semi-formal to formal attire appreciated.
Cost: $175 per family.
Come just for the potluck and the ball: $10 per person at the door