Are you ready to improve your child's learning?
WISDOM's workshops will help you apply mediated learning in your home. If you are a parent who learns by doing, you will find our workshop format very helpful.
In-Person: Day-long, practical, hands-on events are available in major centres across the province. After a day of immersing yourself in mediational methods, you will be surprised at how easy it is to have an immediate and lasting impact on the way you home school.
Online: Join a series of 2-hour sessions that will include instruction, parent participation, and opportunity for Q & A. As participants meet in a virtual classroom, a strong internet connection and a microphone/speaker are required.
Materials for the Mediated Learning workshops are protected by copyright. Recording of any session is prohibited.
Click here for upcoming ML workshops.
About our workshops
FOUNDATIONS
Spark learning for every student: challenged to gifted.
Through activities, discussions, and skill-building exercises, get a solid grasp of the foundations of the mediational teaching method; learn to apply it to any child, using any curriculum.
Understand how the brain learns best and how Mediated Learning can be incorporated into family life.
Access tools that make learning engaging and meaningful for your child.
Explore the importance of parent/child attachment and learn ways to keep it healthy.
Discover problem-solving techniques that help to strengthen cognitive weaknesses.
Leave the workshop with firm personal and family goals in place, as well as a plan to achieve them.
The Foundations Workshop is a prerequisite to attending any other Mediated Learning workshop
---

Behaviour
Go from conflict to cooperation.
Find positive ways of addressing behavioural challenges.
Grow in skills which help in dealing with delays, blocking, fear of failure, fear of succeeding, lack of confidence, and argumentative behaviour.
Learn nine key areas of living, performance, and stability.
Engage in personal and group activities that will increase your ability to identify learning barriers and address frustration.
Bring your home to new place of success and peace.

---
Critical Thinking
Brain building workshop.
Use Mediated Learning in practical ways: Focus on logic, organization, problem-solving, and planning.
Learn specific strategies to focus the learner on thinking processes and awareness of change. "How did you solve that problem?" "What did you use?" "How can you help yourself?"
Learn the kinds of questions that trigger critical thinking and help children become solution-focused.
Become more confident in applying Mediated Learning to any challenge.
---

REading and math
There is no such thing as stuck.
Use Mediated Learning to work past reading and math difficulties.
Explore readiness.
Learn about perception challenges (dyslexia/dyscalculia) and how to work with your child.
Learn the roots of reading and math issues, and direct this knowledge toward a fresh start for children wounded by negative experience.
Receive tips and proven strategies.
---

Challenges
Go from struggle to success.
Explore student attitude and belief by using the mediational method.
Assess weaknesses and strengths.
Help children struggling with focus, memory, confusion, processing, frustration, planning and learning delays.
Come away with an action plan.
Come away with hope; moving from "I can't." to "I can."
---

Mediating High school
For youth 13 and older, with at least one parent attending.
Directed to students, helping them become more self-directed.
Focus on goal-setting, staying motivated, healthy study and healthy living.
Receive effective tools for becoming more responsible and mature.
Learn to self-mediate, to ask meaningful questions, and to grow as critical thinkers.
Explore "calling".
Take charge of behaviour and learn to plan for the future.
---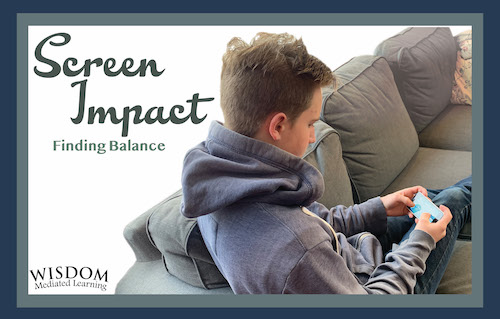 Screen Impact
Technology: Finding Balance
How much is too much?
Learn the signs of too much screen time and what to do when there is.
Learn how to find and maintain a healthy balance in your home.
---
Fees and Schedule
Online Workshops
Offered to WISDOM families in 3 weekly sessions. $60
In-Person Workshops
Let us know if you'd like one in your region.
Click here for upcoming workshops
Check back frequently for updates and changes — notices are also posted on WISDOM's Facebook page: www.facebook.com/WISDOMHomeSchooling
"The presenters did a wonderful job! Loved that we did activities that were challenging. It was a good reminder for me to understand my children better and to have more patience and understanding when they don't grasp a concept right away."

— WISDOM mom