Advanced Grammar & Composition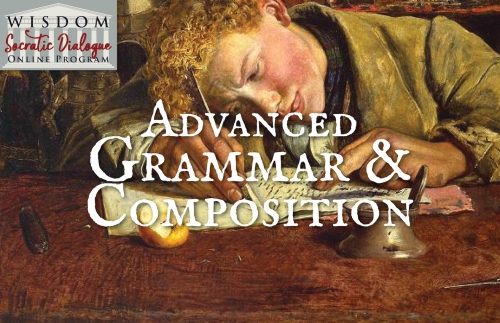 12 yrs and up, $325, 14 week course – Prerequisite: Advanced Grammar Placement Assessment (supplied by the program director upon registration)
This course is a bridge between Foundational Grammar and Intro to High School Writing for students who are familiar with grammar basics but not quite ready for high school essays. It focuses on the more complex rules of grammar, covering clauses, phrases, and sentence structure and includes an introduction to the world of paragraph writing. Students will develop strong writing basics that will help them when they enter the high school stage of composition. This course does build upon the concepts of the WISDOM Foundational Grammar course, but it is not essential that Foundational Grammar is taken first if students already have a sufficient grasp of the basic parts of speech and their usage.
Wednesdays, 1 - 2:30 PM
Advanced Grammar & Composition Meaghen Gonzalez
This course includes a weekly private tutorial time.
Event Properties
| | |
| --- | --- |
| Event Date | Wednesday, 31 Jan, 2024 |
| Cut off date | Saturday, 13 Jan, 2024 |
| Spots available | 2 |
| Price | $325.00 |