WISDOM Family Camp-Canada Celebrates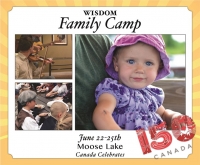 Proudly Canadian!
Celebrating 150 years of History & Culture
Join WISDOM families at Moose Lake. Wear your white and red. Learn about the history and culture of our great nation!
This camp includes:
WISDOM Family Choir - Learn in 3 or 4 part harmony, three patriotic Canadian songs including O Canada to be performed Saturday night.
The Voyageurs - Learn about the voyageurs and develop some practice skills on and off the water (canoeing, orientation, navigation, survival, making an open fire and cooking safety).
Vignettes- Develop your acting ability. Create and/or dramatize short vignettes which tell the story of important events in Canadian History.
Ballroom Dance - Learn a few basic steps including traditional pattern dances popular in different parts of the country.
The Pioneers - A demonstration fair of domestic and farm skills with a focus on explaining the science involved and engaging the crowd. Wear period costume to make this event extra fun. Entries subject to approval by Mrs. Fast.
Canada Celebrates 150 Years - Talent Show with the WISDOM Family Choir (3 patriotic songs) & Canadian Historical Vignettes
Accommodations:
The camp has dorms, cabins and tent or trailer spaces. Register now to have your choice of accommodation selection.
Along with all of the above, your family may enjoy the lake with swimming, canoeing, kayaking and more.
Cost: Early Bird (before May 1st) - $200.00 per family
After May 1st - $230 per family
Event Properties
| | |
| --- | --- |
| Event Date | Thursday, 22 Jun, 2017 |
| Event End Date | Sunday, 25 Jun, 2017 |
| Cut off date | 16-06-2017 |
| Price | $230.00 |
| Fixed group price | $200.00 |
| Location | Moose Lake Camp |