Register Now Exhibitors Presenters Schedule
Join us for two days to connect with fellow home schoolers and learn how to navigate high school at home. Hear from others who have experienced hardships and victories in their journeys, interact with different booths including the WISDOM high school team, booths focused on 'adulting' skills and life beyond school. Connect with post-secondary institutions actively seeking home schoolers, including our host: NAIT. It comes with good plans and hard work - you have reason for Healthy Confidence! Come with your children aged 12 and up, and join us to make good plans.
March 31, 2023
Northmount Hall – 9208 140 Ave NW, Edmonton
April 1, 2023
NAIT Shaw Theatre — 11762 106 St NW, Edmonton
On-site parking: $5/day at M parkade (closest) or A/B parkade.
Click here for a map with relevant info.
Talk: "From Zero to Confident" – Kris Buchholtz
Post-Secondary Institutions – Come Study with Us
"Adulting" Booths – learn skills for life!
Talk: "Confidence to Step into the Unknown" – Craig Weston
Home School Grads - Confidence in your Journey
Parent Panel – Confidence in Sending Forth: Success Stories
Talk: "Healthy Confidence" – Patty Marler
Register Now Exhibitors Presenters Schedule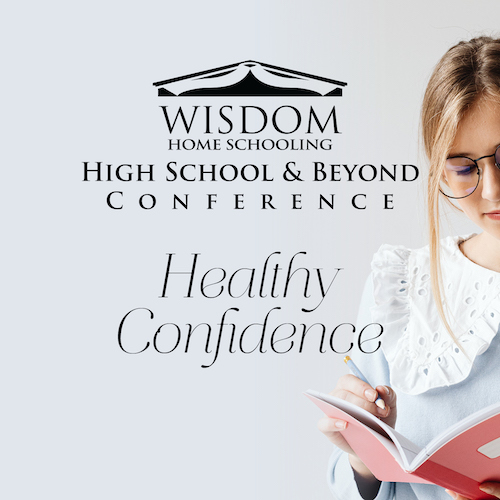 Door prizes!
Featuring WISDOM Alumni! If you are or know a WISDOM grad, click here.
Conference fee includes access to the used curriculum fair, entry to Friday evening dance, and full day Saturday. FREE Saturday lunch included, including choice of chicken or veggie wrap and a bag of potato chips. (If you have dietary restrictions, please bring a bagged lunch. AFTER March 23, free lunch is no longer available. Participants must bring a bagged lunch.)
Admission rates


$80 per individual
$280 per family
This conference is open to non-WISDOM home schoolers! Unsubsidized non-WISDOM rates are $90 per individual or $315 per family.
The conference will be recorded, with recordings available to paid participants for a limited time after the conference. If your family becomes ill and is unable to attend, you will be able to take it in from your home. Recordings will not be available for individual sale at this time.