Mind to Matter STEAM Labs - Lethbridge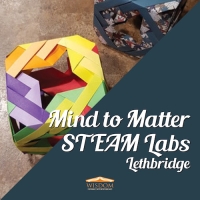 What: Mind to Matter STEAM Labs by Andrew & Laurie Zienchuk
When: Mondays, October 17, 2022 - November 21, 2022, from 10:00 – 11:30
Where: Cor Van Raay YMCA in Lethbridge.
Cost: $210 per person.
Join us for amazing STEAM Hands-On Labs with LEGO Technic, KEVA Planks, and Modular Origami for grades 3 through 12.
In each 1 ½ hour lab with these resources, we will focus on:
Experimentation and Creativity
Problem Solving and Building Design
Teamwork and Presenting Skills
Did you know that when you build with LEGO Technic and KEVA Planks and do Modular Origami, you are activating your whole brain? LEGO Technic building will help your child to understand engineering mechanics by hands-on learning of how these machines work. Building with KEVA Planks are a great way to improve critical thinking, understand geometric structures, and explore balance and proportion, all while letting your child's imagination soar! Your child will have the opportunity to build incredible projects individually and participate in fun group challenges. Origami, the art of folding paper, helps develop your child at the cognitive level in memory, and logical and sequential thinking as your child will learn new skills, while building intricate 3-D objects.
Event Properties
| | |
| --- | --- |
| Event Date | Monday, 17 Oct, 2022 |
| Price | $210 per student |