Essay Skills: Write Your Best English 30 Diploma Exam C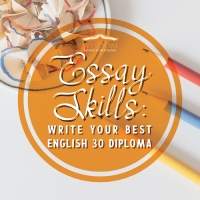 6-week workshop
Tuesdays and Thursdays, April 25 - June 1, 2023
Time: 9:45-11:15am
This workshop is intended to assist students who are preparing for the written portion of the English 30 Diploma exam. Students will learn to decode essay prompts and utilize effective essay formatting. Applicants need to have advanced writing experience. A maximum of eight students will be accepted.
This workshop covers the 2 essay types of the written portion of the exam: the Critical/Analytical Response to Literature and the Personal Response. Students will be taken through an 6 week program to cover each of the 7 scoring categories of the exam to help students achieve the highest score they can. Students will meet up to 90 minutes twice a week, and will have lots of hands-on writing practice and feedback. Marks for essays and mock-exam in this workshop may be used toward the ELA course challenge portfolio.
Additional tutoring can be requested at $50/hr.
Application Process: To apply for this workshop,
1) fill in the registration
2) submit a literary essay in the attachment portion of the registration (NOTE: We strongly recommend that this is a critical analysis essay, particularly for the 30-level students.)
Eligible students will be given priority based upon: 1) readiness for the course as determined by the submitted writing sample; 2) plans to write the upcoming English 30 diploma exam.
Students will be alerted of their status as soon as possible after receiving their registration and essay submission.
(Students who are planning on writing the exam at a later date can access this workshop again in the new year prior to their writing date. The schedule for future workshops will be released in the coming months.)
Cancellation policy: If we have to cancel an event due to low registration, we will refund your money. However, if you cancel within two weeks of a scheduled camp or event, your money can not be refunded. Without the necessary funds, your last-minute cancellation may otherwise close down an entire event.
Event Properties
| | |
| --- | --- |
| Event Date | Tuesday, 25 Apr, 2023 |
| Cut off date | Friday, 21 Apr, 2023 |
| Price | $275.00 |