Rabbit Hill Ski Day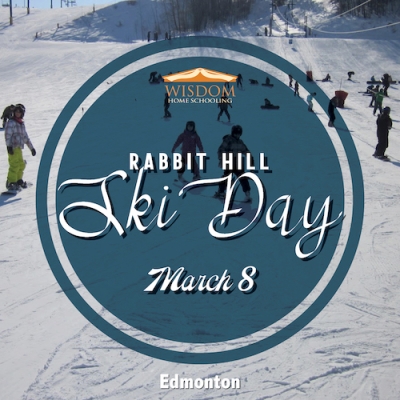 Where: Rabbit Hill, SW of Edmonton
When: March 8, 2023. Meeting at 9am, hill closes at 9pm
Cost: $45 for lift ticket, lessons, and rental
Rabbit Hill is an excellent place to learn or improve downhill skiing or snowboarding skills. Rabbit Hill has excellent instructors for every level. This is an ideal opportunity for those who have never given downhill skiing or snow boarding a try. This is also a great day to enjoy together as a family and meet some other WISDOM home schooling families on the hill or in the chalet.
Arrive at the Rabbit Hill Rental shop between 9:00 and 9:15am. Parents please accompany your children. It takes a minimum of 45mins to get through the rental shop on busy days. Rabbit Hill staff will greet you at the entrance. Let them know that you are with the WISDOM Home Schooling group. They will help you find gear. They recommend wearing older footwear since you will be leaving it on a shelf in the shop until you return and at times things are stolen. Come knowing your height and weight for exact equipment fit.
Once you have your gear, head to the exit door and you will meet WISDOM staff members. They will record the numbers on your equipment and give you the lift tickets for your family.
If you are not renting equipment you will still need to come through the rental shop to register and obtain your lift ticket. John Hoekstra will be doing this (wearing blue coat, red helmet).
Just outside the equipment rental shop door is the lesson area. Lessons start at 11:00am. As you head out with your family, instructors will be grouping people for 1-hour lessons according to experience and ability. Unfortunately, the policy for the Ski Hill is that parents cannot have lessons along with their children. Please review the "Alpine Responsibility Code" with all your children and then sign the waiver for your family.
Parents and little children who are not skiing can sit in the chalet or on the deck. All children skiing and snowboarding are only under the supervision of the resort staff during the lesson. The rest of the day they are under the supervision of their parents, therefore a parent must stay in attendance as long as your children are at the resort.
You can bring lunch to eat in the chalet or utilize the concession stand. There is a microwave oven available and a water cooler near the concession stand. Lockers are available that have locks; you will need change. There are also shelves on which you can put things, but do not leave any valuables unattended.
The "quietest" time on the hill is between 2:00-5:00 pm. All the school groups leave and then it is prime time. It is also quieter in the chalet. After supper, there are sometimes bus loads of people from the city who come out for the evening. The hill is open until 9:00pm, so you can stay for a short day or until closing time!
---
Cancellation policy: If we have to cancel an event due to low registration, we will refund your money. However, if you cancel within two weeks of a scheduled camp or event, your money can not be refunded. Without the necessary funds, your last-minute cancellation may otherwise close down an entire event.
Event Properties
| | |
| --- | --- |
| Event Date | Wednesday, 08 Mar, 2023 |
| Cut off date | Thursday, 02 Mar, 2023 |
| Cancel Before Date | Thursday, 02 Mar, 2023 |
| Price | $45 for lift ticket and rental |