Debate Workshop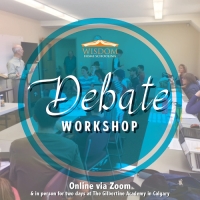 Cost: $185.00 per person
Who: Grades 10 - 12
Where: Online, and in person for two days at St Emeric Catholic Church in Edmonton.
When:
Online, Mondays, March 6 – May 1 from 12:30 - 2 PM (excluding Easter Monday, April 10)
In person at St Emeric Catholic Church in Edmonton on March 27 and May 1 from 1 PM - 4 PM.
Logic and debate are the building blocks of healthy discussion in a family and the principal means by which society is governed and changed. Learn the basics, and then participate in an organized debate with other participants.
Learn Canadian parliamentary debate style while developing Social Studies 10-30 historical case studies for your position papers. Topics will cover economic, international, philosophical, and democratic issues. For 8 weeks we will first research independently and then debate for 1.5 hrs each week. At the end of each month we will hold an in-person mini debate tournament at St Emeric Catholic Church in Edmonton.
Proposed topics:
Great Depression and the New Deal
Nuclear deterrence/NATO membership
Philosophy Debate - What is the Common Good? (Locke, Hobbes, Rousseau)
Strong leadership and illiberal regimes
The Will of the People - Representative government, and tyranny of the majority
Andrew Siebert has led debaters to Canadian Nationals and European international tournaments. He is also the WISDOM course challenge specialist for ELA/Social Studies.
Event Properties
| | |
| --- | --- |
| Event Date | Monday, 06 Mar, 2023 |
| Spots available | 8 |
| Cut off date | Monday, 27 Feb, 2023 |
| Price | $185 per student |