Introduction to Bird Watching C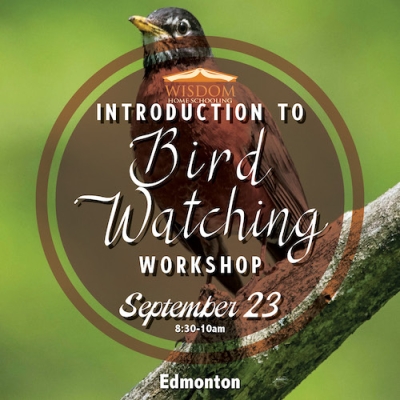 When: Saturday, September 23, 2023 - 8:30 - 10:00am
Where: Whitemud Creek Ravine Savage Centre parking lot, Edmonton
Price: $17 per participant
Parental presence is required but one parent may attend free of charge.
Who is eligible to participate: Attendees must be able to remain quiet and still while bird watching as birds are sensitive to sounds and movement and be able to maintain focus and attention to their instructors.
Weather, insect, and terrain conditions can vary greatly. Wear closed-toe walking shoes, bring a hat/sunscreen, and bug spray. Sessions run regardless of weather—be sure to look at the forecast and dress accordingly.
We will be using the Birds of Alberta ID book by Chris Fisher and John Acorn during the sessions. Bringing or purchasing this book is recommended, but not required. It can be purchased here.
Binoculars are a huge asset to the bird watcher! Bringing a pair is recommended, but not required.
Did you know bird watching can rewire the brain? Scientists have learned that watching and identification improves mental health by heightening observation and memory skills. In this course, students (and parents!) will learn the basics of bird identification, including learning to recognize and identify birds based on their color, size, shape, and behavior. Attendees will be led through Edmonton's Whitemud Creek Ravine, an excellent location for viewing a variety of species, and will have the opportunity to gain real-time bird identification practice under the guidance of experienced instructors.
Who are we?
Daniel and Jameson have been bird watching for over five years. They have identified 187 species in Edmonton and have completed around 400 hours of bird watching locally and around the world. Daniel has completed a university-level course by Cornell Lab of Ornithology, giving him in-depth knowledge of bird biology. Jameson has taken over 10,000 bird photographs, focusing on transporting the viewer into the bird's world using techniques such as camera angle and composition.
You can learn more about Daniel and Jameson and their bird-related projects on their website.
Event Properties
| | |
| --- | --- |
| Event Date | Saturday, 23 Sep, 2023 |
| Event End Date | Saturday, 23 Sep, 2023 |
| Spots available | 10 |
| Cut off date | Wednesday, 20 Sep, 2023 |
| Price | $17 per participant |