Indoor Rock Wall Climbing - Edmonton F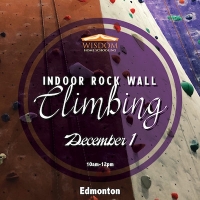 What:
The school Just Climbing session is our most popular program. Aimed towards the first-timer, this 2 hour session allows participants to learn about the sport of climbing through hands-on (and feet-on) skills.
This means instruction on putting on an approved climbing harness, learning how to belay (manage the ropes) and a technique tip or two. This session is designed primarily to give your group a lot of time for climbing. Our instructors are there to help guide you up the walls and to make certain that you enjoy a secure and fun filled climbing class. This course includes all the necessary equipment and of course our expert instructors to facilitate your visit.
Ages 5 and up. Parental presence is required. Parents may register and climb as well if they wish.
Where: Vertically Inclined Rock Gym
8523 Argyll Road Edmonton, Alberta
When: December 1, 10 - 12pm
Cost: $23 per person
A waiver from Vertically Inclined will be sent with the registration confirmation. Please fill out one for each climber and send them back!
Cancellation policy: If we have to cancel an event due to low registration, we will refund your money. However, if you cancel within two weeks of a scheduled camp or event, your money can not be refunded. Without the necessary funds, your last-minute cancellation may otherwise close down an entire event.
Event Properties
| | |
| --- | --- |
| Event Date | Friday, 1 Dec, 2023 |
| Spots available | 0 |
| Price | $23 per climber |
| Location | Vertically Inclined |