Advanced Ballroom Dance Workshop - Edmonton B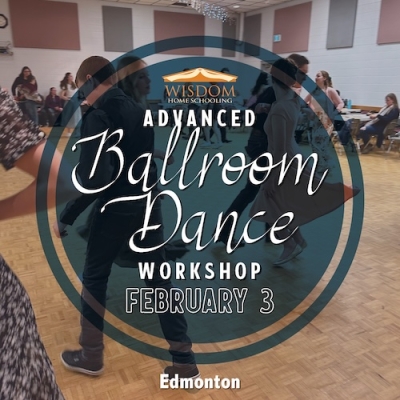 Northmount Community Hall
9208 140 Ave, Edmonton
The ultimate dance camp. Advanced Ballroom Dance Camp will include Advanced Foxtrot and Advanced Waltz. More patterns in the Jive, Rumba and Cha Cha will be introduced throughout. Plan to also expand your repertoire with Old Time Dances, the Tango or even the Charleston.
Anyone under the age of 18 will need to have a registered parent or guardian present at the workshop/ball.
Open to non-WISDOM families; WISDOM families take precedence.
Registration begins at 9:30am
Dance workshop all day with a break for lunch.
Bring a bag lunch, and a main dish and salad or dessert for the potluck supper. Ball begins at 7:00pm. Please bring a change of clothes for the ball. Semi formal to formal attire.
Prices:
$160 per family
$40 per individual
Drop in for the grand ball: $50 per family and $15 per individual.
Pricing for non-WISDOM families:
$179.20 per family, $44.80 per individual.
Drop in for the grand ball: $56 per family and $16.80 per individual