Cross Country Race Day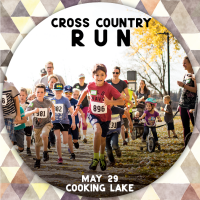 Note Date Change
Registration begins at 9:30 am.
Cooking Lake - Blackfoot Provincial Recreation Area
Waskehegan Staging Area
Race Categories:
6 and under, 7&8 (1km)
9&10 (2kms)
11&12 (3kms)
13&14 girls (3kms)
13&14 boys (4kms)
15+ girls (4kms)
15+ boys (5Kms)
Also open for Home School alumni and parents who would like to run: choose your distance of 1 – 5 kms.
Bring a picnic lunch and chairs and join us after the races for an afternoon of socializing and enjoying the beautiful outdoors.
Pre-registration is $10 per student participant. Walk-in is $15 and Parents are free.
Questions? Contact This email address is being protected from spambots. You need JavaScript enabled to view it. or 780-741-2113