History Camp - Metis Crossing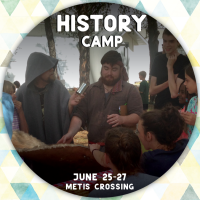 Metis Crossing in Northeastern Alberta,
along the banks of the North Saskatchewan River.
Explore the highway of the early explorers!
Come learn how the early First Nations and European cultures intertwined with each other in the Metis Nation. Metis Crossing is the first major Metis cultural interpretive center in Alberta. During the day we will learn traditional crafts, such as beading and weaving. We will also spend time hiking along the North
Saskatchewan learning about the traditional use of plants. We'll learn about Metis culture in the activity centres in the Metis Crossing Cultural Centre.
Try out your hand at paddling a voyageur canoe and spend some time at the old Fort Victoria. In the evenings, we'll be learning Voyageur songs around the campfire and trying out some of their jigs.

This is a largely out of doors experience. We will be camping at sites available for tents or RVs. Some RV sites are equipped with power. Services include showers, washrooms, picnic tables, and fire pits. There is firewood for sale.
Cost: Early bird -$265 per family
After April 24, $295.
Note: If you want to do some historical preparation, there is an excellent book called "Tell Me Grandmother" by Lyn Hancock, Marion Dowler and Douglas Tait. It is out of print but can be found in
some libraries or online resellers. It is the story of Jane Livingston, the wife of Sam Livingston, an early prospector and trader, one of the first settlers in the Calgary area. Part of the story centres on the
Metis migration from Manitoba to the Fort Victoria area. It would give you an excellent background to the story of the Metis.
Questions? Contact This email address is being protected from spambots. You need JavaScript enabled to view it. or 780-741-2113
Event Properties
| | |
| --- | --- |
| Event Date | Thursday, 25 Jun, 2020 |
| Event End Date | Saturday, 27 Jun, 2020 |
| Registration Start Date | Friday, 10 Jan, 2020 |
| Price | Early bird -$265 per family/$295 after April 24 |
| Location | Metis Crossing |