Debate Workshop - Camrose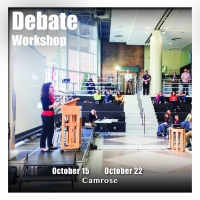 Debate is a very effective means of developing logical thinking and applying it to life. Learn how to organize thoughts and present them in ways that are clear and convincing.
The WISDOM Debate Workshop will demonstrate differences between logical and emotional thinking and illustrate the common, but illogical, tactics of people who try to influence others. Students will learn the structure of formal debate and apply their new skills to providing the best possible argument.
Debate provides eminently useful lifetime skills and is the foundation of decision-making in courts of law, legislation, and forums for social change. Prepare to make a difference!
Camrose Debate Workshop: Presenter: Ken Noster
This workshop requires attendance at two sessions: Monday, October 15 and October 22, 8:45am to 4pm, with a break for your bagged lunch. One parent is required to attend, but all family members are welcome to watch the debates.
$25 per student (for both days) - choose Group registration for more than one student.
Note: A final debate (between students of all 2018 debate workshops) will occur at the first day of the High School and Beyond Conference on November 2-3, 2018. Families with students entering in that debate will receive a discounted registration fee for the conference.
As with most of our workshops, this debate workshop is for WISDOM students only.