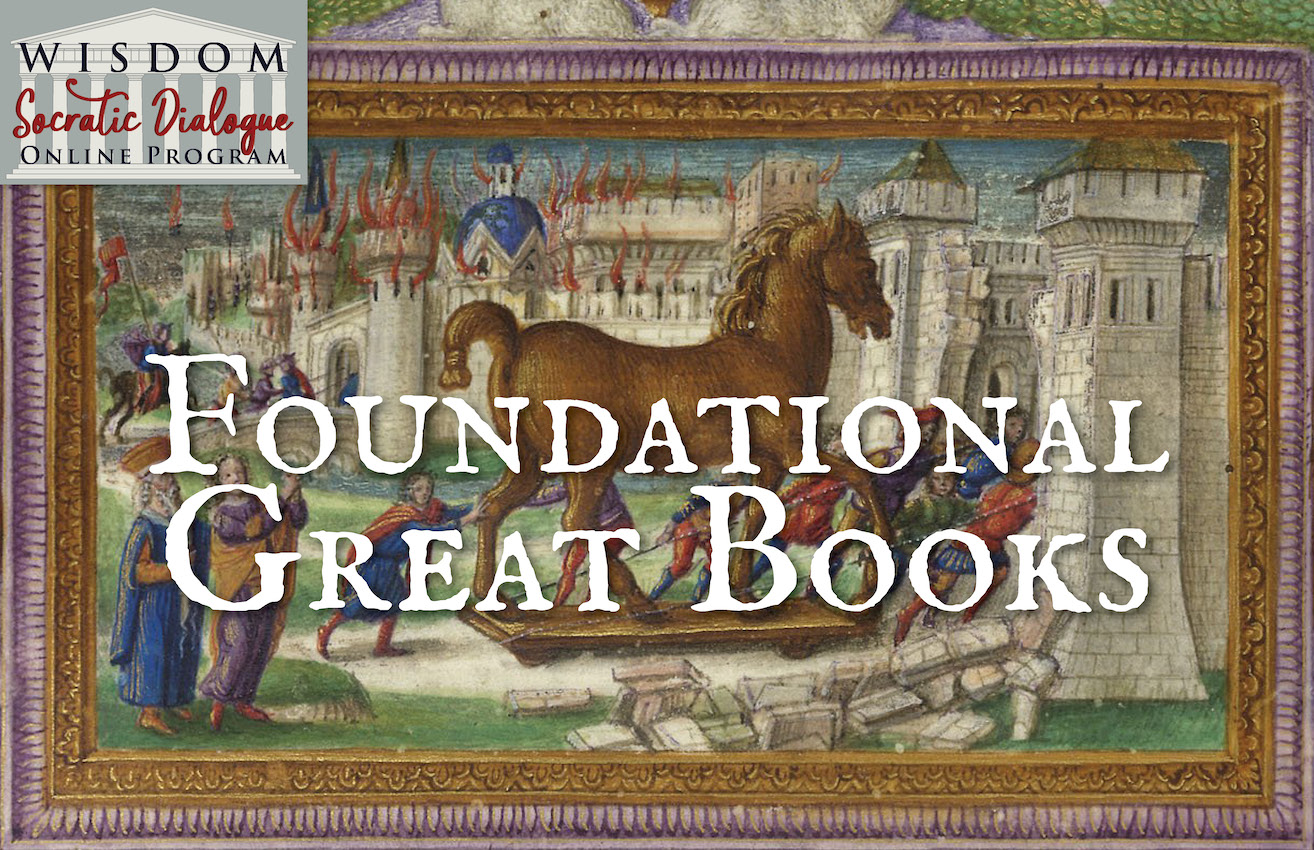 Intermediate Course (13 yrs and up), $185, 14 week course – No Prerequisite – This course is at the heart of WISDOM's Socratic Dialogue Program and is a prerequisite to many senior level courses.
(Previously titled "Introductory Great Books"; any course which requires Foundational Great Books as a prerequisite is also fulfilled by students having taken Introductory Great Books.)
What makes a classic? Why read ancient books?

Our current culture has done a marvelous job to simplify life. Countless inventions are doing our work for us at the push of a button, freeing our time to focus on more important things. However, do we find that society at large uses this extra time for meaningful growth? Are popular pursuits typically edifying and challenging? Ironically, although we have ready access to incredible information, our culture is beginning to forget where it has come from.

To remember who we are and how we have been shaped as part of western culture, we need to experience the words of those who come before us and experience the subjects that mattered to them. In doing so, we discover that their journeys and ours look surprisingly similar. This course aims to introduce students to some of the wealth of the greatest original thinkers in literature, theology, and philosophy as they study man and his relationship to society. Students will witness how these great works can teach them, even now, of who they are and where they have come from. It will familiarize students with ancient prose and poetry, the Shakespearean drama, and medieval and contemporary works. This course aims not only to expose the student to great and beautiful texts, but to acquaint them with the methodological tools needed to delve into the thought of the author on his own terms and to explore his claims about reality.

(This course requires good reading comprehension of complex works of literature and an ability to read up to 150 pages in a week, although the average assignment is 75 pgs.)
To Buy:
The Iliad by Homer, Robert Fagles translation - It can be affordably obtained at Amazon or Chapters. (Alternate translations can be found online, but Fagles' translation is much more clear and easy to read than many.)
All other readings will be provided in an online format to registered students, although students may wish to obtain hard copies for ease of reading.
---
Reading List:
Learning in Wartime by C.S. Lewis
Antigone by Sophocles
The Iliad by Homer
The Republic by Plato (excerpts)
The Consolation of Philosophy by Boethius
Sir Gawain and the Green Knight (Translated by J.R.R. Tolkien)
Pensees by Blaise Pascal (excerpts)
Utopia by Thomas More (excerpts)
Hamlet by Shakespeare
Man's Search for Meaning by Viktor E. Frankl
The Death of Ivan Ilych by Leo Tolstoy