Biology 20 Lab Seminar - EDMONTON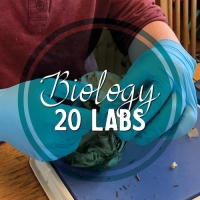 Come together in Edmonton for a term of Biology labs. Whether you're working toward high school Biology credit or simply want to have a solid understanding of labs, this is an excellent opportunity for your student.
Students in the Biology Laboratory 2023-2024 seminar will gain experience in using the scientific method, laboratory skills, and lab write ups.
In Biology 20, students will: consider and analyze evidence for and against the theory of evolution; explore photosynthesis and cellular respiration (isolation of chlorophyll); begin integrating human systems (fetal pig dissection); and better understand the human respiratory and circulatory systems (lung function testing).
Seminar Dates, 2023
Online Preparation Component, 2-4pm

Monday, September 11
Monday, October 16
Monday, November 13
Monday, December 11
Monday, January 8
In-person Labs in Edmonton (location TBA), 2-4pm

Monday, September 18
Monday, October 23
Monday, November 20
Monday, December 18
Monday, January 15
Event Properties
| | |
| --- | --- |
| Event Date | Monday, 11 Sep, 2023 |
| Spots available | 8 |
| Price | $300 per student |