Articles
Our Mexican Son and Brother was written by WISDOM mom Laurie Lacy. David and Laurie Lacy are devout Christians. They live in Edmonton, and are active in WISDOM's home school events.
Celebrating Winter
Studies tend to become mundane during the winter months. Incorporating an occasional Theme Day adds variety and interest to your routine as well as providing a welcome break for your children, especially the younger ones. The extra planning pays off with dividends of excitement and yes – learning!
Notes to Myself is a much loved column by Marlane Noster. Her warm and flowing style is like looking over a shoulder into a journal, and her wit and wisdom is appreciated by all. Write to her at .
Most forms of celebration consist of giving thanks and giving credit. When people celebrate, they don't usually apply the celebration to something outside their experience. Rather, they take a realistic look at what is normal in their life and recognize in it the great gifts.
The world of education (at least the professional world, where people make money at it) is continually looking toward more and more avant garde and sophisticated ways of delivering education. If a masters or doctoral student of education wishes to amount to anything, he had better come up with at least one new idea. The result is a constantly shifting plethora of pedagogical ideas loaded with eloquent terminology and backed by volumes of research.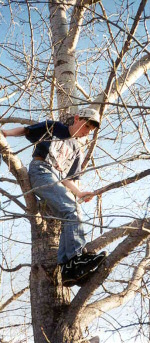 Are you beating your head against a wall? Is your thirteen year old impossible to teach? Is the curriculum that has worked so well in the past suddenly "boring?"
I recently spoke with a mother of many who, after completing an enjoyable unit study of reading and discussion on Holland, decided her fourteen year old son should follow-up this project with something concrete. She asked him to write an essay on the history of the development of the tulip industry - a topic they had all found to be interesting. As days of reluctance dragged into weeks of resistance, a normally affable mother-son relationship became outright antagonistic....
SOCIALIZATION: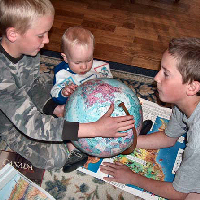 "the process by which a human being, beginning at infancy, acquires the habits, beliefs, and accumulated knowledge of his society through his education and training for adult status." - Webster's dictionary
Habits
It is unlikely that any responsible citizen would automatically take "habits" to mean any and all habits. There are many habits our society would consider ills; habits that hamper personal development and negatively affect the quality of life for individuals and those around them. Instead we are working toward "good" habits: work habits, manners, sportsmanship, caution, respect,....
By:

Veronica Isinger
|
Articles
|
I'd like to pass on a very helpful book, that has brought some variety, fun, and creativity to our writing. It is called, "If You Are Trying to Teach Kids How to Write You've Gotta Have This Book". There are endless ideas.
One thing Marjorie Frank (author) recommends in her book is to sit with the children and write when they write. They're more interested in writing when we partake as well. I break from our "Understanding Writing" program on Fridays to insert an assignment from this book. I find my 8 year old, 11 year old, and I can all do the same assignment. It's generally lighthearted and refreshing. I highly recommend it.
Have you considered what a wonderful resource we have in the growing number of graduates who have been home schooled right through high school? I hadn't until I found myself in a position of great need.
I found that my involvement in the administration of WISDOM, the farm, and my commitments to my church community; not to mention the education and formation of my children, kept me rather busy. Praying for discernment, and wrestling with what I must let go; I found the answer was not to let go of anything more at this time, but to find assistance. The most logical solution in my mind was to find help with running my home; so began the search for a part-time housekeeper. I was insistent that I find someone who would fit into our home as an extension of our family unit - someone with integrity who shared our values. I never did find her....
Unfortunately, almost all of us take our definition of "school" from the limited experience of our own schooling. Whether or not we actually acknowledge it, the public school system becomes our model of how things should actually work. We presume learning is best broken up into defined subjects, that tests are the best measure of learning, that we should finish the math book each year, and most of all, that school is work...